Writings.
♫ Wonderful, wonderful Copenhagen ♫
The arrival in Denmark of King's Voices for a choir tour was not met by hoards of screaming fans, which is just as well as dinner was more at the forefront of our minds than signing autographs. After dumping our bags in the hostel, notable only for being the largest in Europe with 16 floors and 1,020 beds, we headed out into a surprisingly dead capital city. Looking for a place that actually showed signs of life we found a gourmet burger bar, perhaps not traditionally Danish but excellent quality. The menu provided much amusement as each burger was apparently served with '8 slags'; thankfully, this turned out to be the Danish word for 'types' and was referring to the different sauces. Danish, however, does seem almost deliberately built to read amusingly to those from England. On our travels we came across everything from a shop called 'Bog handel' to another advertising a 'slut spurt', which apparently means end of sale.
When thinking of Danish cuisine not a lot springs to mind. In fact, perhaps the only fare I can come up with is Danish pastries, and certainly these delicacies were to be found in every bakery in the city, the quality without exception far surpassing any I have ever found in England. 'Snegl' time (literal translation apparently 'Snail' due to the shape) was quickly established as a highlight of every day. Apart from this, the only other traditional food we were served was open-topped sandwiches served on rye bread, a wholesome and tasty staple.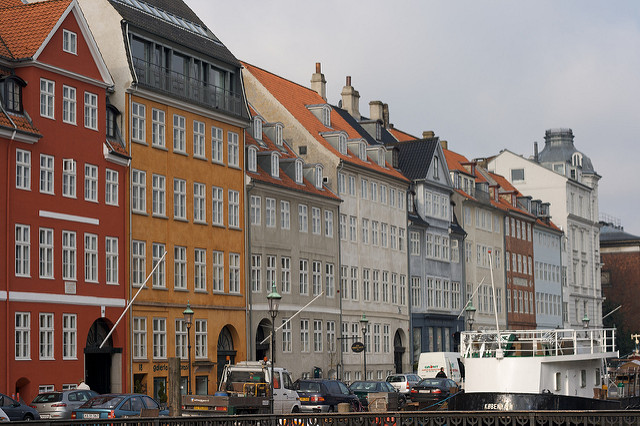 Fortune prevailed with the weather and most of the time we were able to stroll around the streets without being drenched. A certain tidy uniformity runs through much of Copenhagen, with tall, pastel coloured houses and clean streets. That is, until you reach Christiania, a small neighbourhood of the city just over the bridge from where we were staying. Pristine roads and buildings are not to be found here; instead, run-down houses and a dirt road are the setting for a semi-independent hippy community. Whilst home to much of Copenhagen's drugs trade, these days this is slightly more discreet and outdoor cafes and bars give off a relaxed vibe. Beautiful large scale murals and graffiti art adorn the buildings; it certainly contrasts greatly with the rest of the city, which was interesting albeit less unusual. Rosenburg Slot is the old palace, now home to the crown jewels; I looked round the grounds again but declined to pay the entrance fee having seen the jewels before. Instead, we went to the National Art Gallery, an absolutely gigantic building containing everything from a modern sculpture of a man with 12-foot long legs to ancient oil paintings depicting biblical scenes. Climbing the round tower in the centre of Copenhagen we enjoyed a 360 degree panoramic view of the city's skyline, although this was, sadly, fairly unremarkable.
Most people travelling to England find UK prices a bit steep, but they are nothing compared to Denmark. Beer fetched up to £5 a pint in town, with the average price at least £4. We did however find a student bar to frequent, which was much more reasonably priced. But really you might as well go to the source, so during some spare time on one day we took a train out to the Carlsberg Brewery, producer of just about every beer Denmark has to offer. Our two free samples at the end allowed us to try some of their more unusual products, including the curiously titled 'Elephant Beer', presumably named due to the 7.3% strength being enough to fell such a beast. This clearly wasn't enough for some guests however, as whilst there we saw one man walk up to the bar and order a glass of practically everything they had on offer. Evidently he was either a connoisseur, a man with many friends or perhaps simply an alcoholic.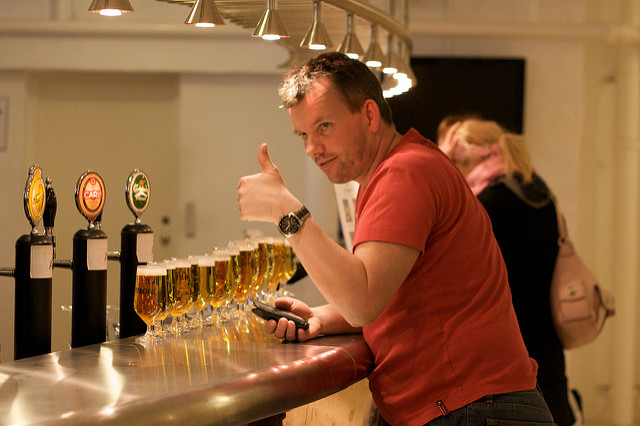 It would seem remiss of me to write an entire account of my time in Copenhagen without mentioning the singing, what with this being a choir tour and all. We gave three concerts and one service during our time here and I think I can safely say that all were a resounding success, the only real problem being deciding on what to do for our encores. Turnout was excellent with over three hundred people seeing us perform in total. Congratulations must be given to Simon for rehearsing and conducting us through the Byrd mass, several anthems and a number of madrigals; all very British and apparently pleasing to the Danish ear.
And then it was time to leave, really not too long after we set out, but perhaps long enough given the certain lightness to our wallets by this time. A good time had been enjoyed by all and perhaps this is best summarised by the slogan emblazoned on the T-shirts we bought Helen (our wonderful organiser) and Simon: I ♥ Copenhagen.